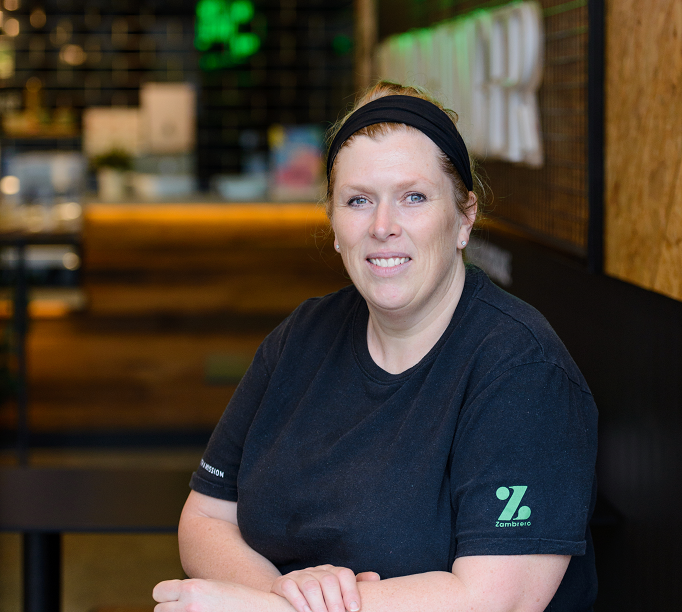 Libby
Tell us a bit about your shop or service: Zambrero is Mexican with a mission of defeating world hunger one meal at a time. For every burrito or bowl purchased a meal is donated to someone in a developing country through our partner, Rise Against Hunger. For every retail product purchased, a meal is donated to someone in need here in Australia, this is done through our Partner Food Bank Australia. We also have a café in store that has a unique custom blend coffee and hot chocolate, ice drinks and savoury and dessert jaffles - we serve breaky from 6am daily.

What's in season or really popular right now with shoppers? Our classic burrito always goes down well at $11.90, it's a filling healthy meal. Our jaffles in coco Mexico are also starting to get a following. Either way you can get a delicious meal any time from 6am - 10pm

How long have you been working here? Just six months

Do you think your shop makes peoples' lives easier? I think it makes customers choice a healthier one. Families or individuals can take a meal home or dine in knowing that they are eating fresh food, handmade Guac and salsa with slow cooked meats.

What are your interests in life? Any hobbies, interests or mad obsessions? I breed Kelpies, sheep, chooks. I also love to grow my own food and have a great interest in organic farming.

What's next on the horizon for the store? We are about to launch home delivery. We are looking forward to rolling this option out for our customers to enjoy meal delivered to the front door whether it be their home or office, lunch or dinner.